Tami's Mojo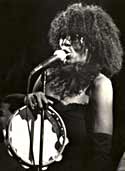 "Mojo Hanna", Tami Lynn,
from Love Is Here And Now You're Gone, Cotillion, 1972
(hear it on
HOTG Internet Radio
)
"Mojo Hanna" has an interesting history, having been recorded along the way by, among others, Marvin Gaye, "Little" Esther Phillips (no relation to your humble correspondent), Larry Williams (as "Louisiana Hannah"), Betty Harris, Aaron Neville, the Neville Brothers, and twice by our featured artist.
Andre Williams
and Clarence Paul wrote it in Detroit around 1962 while working for Motown in the early days. That's where Marvin Gaye got ahold of it. So, while the song is full of Louisiana hoodoo references, it's not originally a product of the State of Utter Humidity.

In the early 1960's, Tami Lynn (aka Tammy, Tammi, or Tamiya Lynn) cut "Mojo Hanna" with the AFO Executives, the group of fine jazz players and r&b session musicians, headed by Harold Battiste, who started AFO (All For One) Records in New Orleans around that time. It's a break-neck version that doesn't give the song much room to breathe. So, I am featuring her later Cotillion reprise produced by Jerry Wexler and Brad Shapio and recorded at Criteria Studios in Miami in 1971. Released as a single that year, it's much more satisfying and funkified. From the recording date, I would hazard a guess that the session players may have been the Dixie Flyers, a group of Memphis-area musicians that Wexler had imported to Miami to accompany numerous artists. Thus, Tami Lynn may be this record's only connection to the Home of the Groove beyond subject matter. I got the version you hear from her 1972 Cotillion LP, Love Is Here And New You're Gone, which is kind of a mess of an album, compiling tunes done with three different production teams at three studios over several years. Nonetheless, there are some worthy tracks on it besides "Mojo Hanna".

Tami Lynn's good early sides, recorded by Harold Battiste for AFO, can be heard on the fine Ace (UK) three CD Gumbo Stew series. On the
Soul Club Jukebox
, you can hear two of her later single sides (including "I'm Gonna Run Away From You", a hit in England) that were also on the Cotillion LP. In the late 1960s and early 1970s, she sang backup on some of King Floyd's first sessions in L.A. and the Stones' Exile on Main Street. She also released a so-so solo CD, Tamiya Lynn, in the 1990's. Tami's feisty second "Mojo Hanna" has always made me wish she had done more like it; but, alas, it was a groove not followed.