Irma and Big Q
"She's Taken My Part" (Adams-Savoy-Hamilton),
Irma Thomas, Cotillion, 1971
This is the last of my replays from October, 2004, the first month of HOTG. As before, I have revised the commentary.

Ahh, I love this b-side, "She's Taken My Part", one of the funkiest numbers
Irma Thomas
has done in her illustrious career. As with the Ted Taylor track I posted last week, this song was produced and arranged by Wardell Quezergue, a frequent person of interest here in the past year, if you care to research that. It was written by Michael Adams, Albert Savoy, and Larry Hamilton, New Orelans writers who, in various combinations, wrote tunes recorded by other Quezergue artists such as the Barons, King Floyd and Jean Knight. Hamilton also recorded a number of his own funky tunes during this era and in 1997 for
Allen Toussaint's NYNO label
.
Irma cut this record at Malaco Studios in Jackson, MS during the time that the producer was overseeing sessions there for Floyd, Knight and many other artists. Quezergue's simple, precisely syncopated arrangements and deft touch produced hits, "Groove Me" for Floyd and "Mr. Big Stuff" for Knight. Atlantic's Cotillion subsidiary released "Full Time Woman" b/w "She's Taken My Part" in late 1971. The A-side was a lushly orchestrated ballad that had Irma's sturdy, earthy vocal as its saving grace. Would that she had worked more with "Big Q" along the lines of this flip side, however. I don't really know why that didn't happen. While he was hot, they could have made more singles together and maybe scored a winner; but the failure of this single to chart quickly cooled the label's enthusiasm for Irma, and she did nothing else for them.
As it turned out, none of her spotty 1970's output went much of anywhere; either; and her recording career did not revive until Rounder Records ushered in her comeback during the 1980's.

Again, here is a classic Quezergue production. I particularly dig the hesitation built into the song's central doubled bass and guitar riff, that perpetual tension and release pushing and pulling the rhythm along like a spring. Irma's vocal runs from raw and hurt to intimate and smooth, and back again, getting the most out of the lyrics. The only known CD comps of this song are Tuff City's
Wardell Quezegue's Funky Funky New Orleans
and two CD collection of their own re-releases,
Night Train To New Orleans
.
As I pointed out the first time around, I've heard Irma live many times in the last 25 years or so; and she often puts an obscure, seldom heard song or two from back in the day into her sets. I've never heard her do this one, though. But, there's always next time. . . .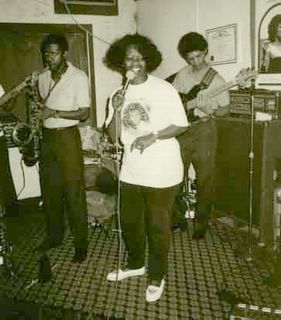 Irma on a Casual Friday