An Irma Thomas Two-fer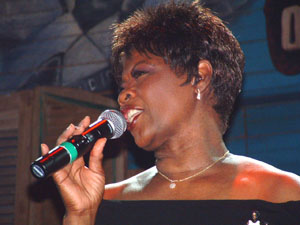 Irma - these days
"You Ain't Hittin' On Nothing" (Naomi Neville)Irma Thomas, Minit, 1963"I'm Gonna Cry Till My Tears Run Dry" (Pomus/Shuman/Fagin)
Irma Thomas, Imperial, 1965
Her birthday is February 18th; so, in celebration, here are two offerings from
Irma Thomas
, both a bit off the beaten track, but I think worth hearing. From 1963 comes "You Ain't Hittin' On Nothing", which was the B-side of the great "Ruler of My Heart", both of which were written (using the pseudonym, Naomi Neville), arranged and produced by Allen Toussaint in New Orleans. Of all his work at that time with Thomas, the spare backing arrangement using just Roy Montrell's guitar with bass and drums (possibly John Boudreaux) on "You Ain't Hittin' On Nothing" stands out for its spare, proto-funk feel and absence of the producer's signature keyboard work. Irma digs in and gives a gritty, bluesy performance on this unique offering.
In contrast, "I'm Gonna Cry Till My Tears Run Dry", written by Doc Pomus et al, and produced with style by Jerry Ragavoy in New York, shows what Irma could with a soulful pop ballad. Ragavoy's sophisticated arrangement allows Irma to give a nuanced, powerful, and touching rendering of the tune, imparting real feelings to the rather clichéd lyrics. To me, that is true soul singing.
Not for nothing is she known as the Soul Queen of New Orleans in her hometown. Over a 40+ year career that never quite peaked with true commercial success and had some daunting valleys, Irma Thomas has survived in an often fickle, cutthroat business on her talent and determination, and done it with class. She continues to deliver quality performances live and on record. You can hear several of her Minit, Imperial, Chess tracks, and even a recent cut from a Rounder album, at the
Soul Club Jukebox
. I'll give you another rarity later on this month, as well.
Oh yeah, and
Da Big Greasy Guide
has some purchase suggestions for an Irma collection.